Convert GLB to FBX for Unity, Unreal Engine, Blender, Maya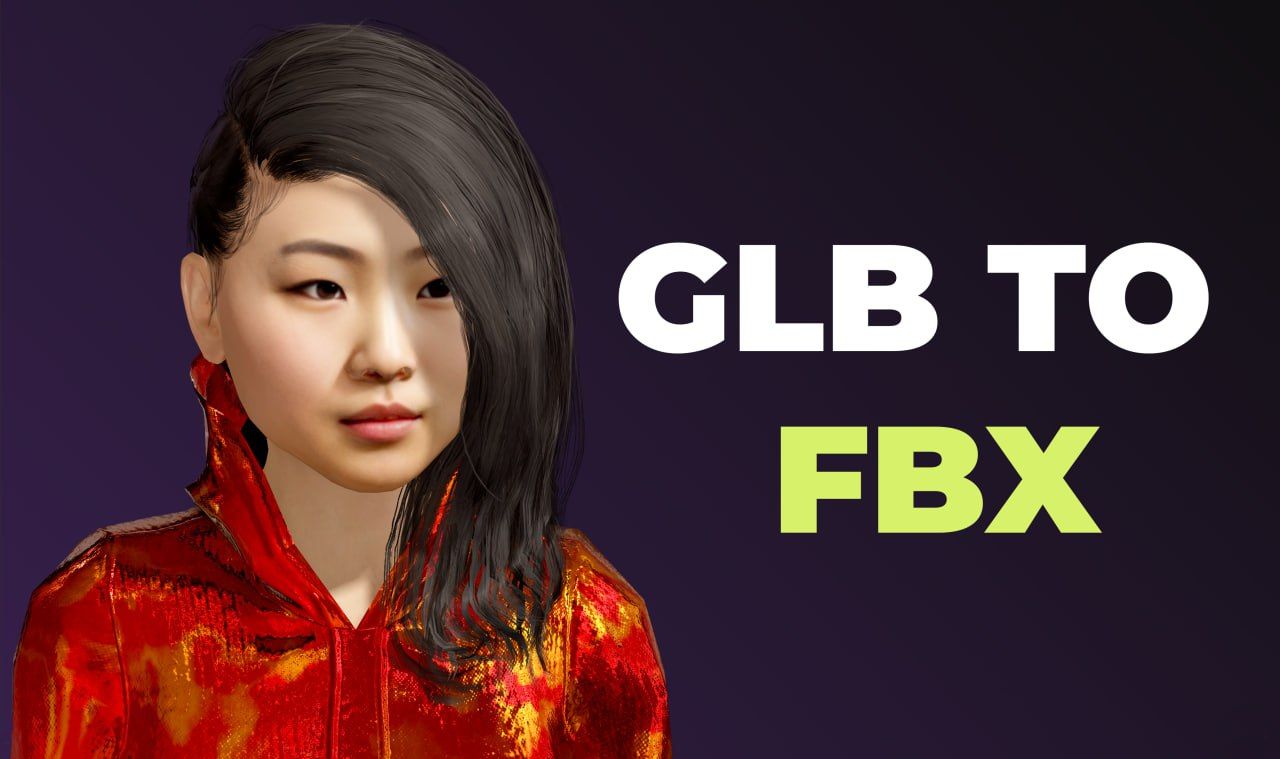 Hello virtual creators and gaming enthusiasts! Have you ever wondered, "How to convert a GLB to an FBX file?" or "Can I use my Avaturn avatar in a game engine like Unity or Unreal Engine?" If so, we've got some exciting news for you!
Avaturn, the leading platform for creating realistic avatars and provider of the most realistic Avatar SDK, has just rolled out a brand-new tool: a GLB to FBX converter. This new tool allows to convert GLTF (GLB) to FBX online, free and with textures. The FBX will work in Blender, Unity, Unreal and other engines. While it's initially designed to work with 3D avatars generated by Avaturn,it actually works with any GLTF (GLB) file.

Converting GLB to FBX is a simple process. Start by exporting your unique Avaturn avatar as a GLB file. Then, use our newly introduced converter to transform it into an FBX file, ready to be imported into your game or app.
To make this process even smoother, we've created detailed step-by-step tutorials on how to import your newly created Avaturn avatar or any other GLTF 3D model into Unity and UE.
Convert GLB to FBX for Unity
Use GLB -> FBX converter to get an FBX compatible with Unity. It's import to select Unity as engine in the converter settings.
Drag and drop FBX into any folder in Unity project.
Import manually metallness map and adjust Smoothness in materials if needed.
Convert GLB to FBX for Unreal Engine
Use GLB -> FBX converter to get an FBX compatible with Unreal. It's import to select Unreal as engine in the converter settings.
Drag and drop FBX into content browser. Set import settings as follows:

Normals import method: Import Normals
Import uniform scale: 100.0 (but it depends on the scale of your assets)
Invert normal maps: true (checkmark).

Done! Sometimes you need manually fix transparency on glasses.
Conclusion
These guides answer common questions like "How to import an FBX file into Unity?" or "How to integrate an FBX avatar into Unreal?". The best part is that the converter can be used with any GLB file, not just Avaturn avatars. Finally, if you want to convert GLTF to FBX, you can use Blender to convert GLTF to GLB first, and then use our converter to convert GLB into FBX.
We're always eager to hear from our community. After giving our new converter a spin, why not share your experience? Your feedback is invaluable as we continue to enhance and optimize our platform.
Stay tuned to our blog for more updates, tips, and news from the world of Avaturn. Happy creating!
Your Avaturn Team